Your mattress has significant impact on the quality of your everyday life. When the soles on your shoes wear thin you replace them. When your AC unit no longer blows cold air you replace the coil.
It is possible you consistently upgrade your perfect-working smartphone every year simply because new models are available, but do you know when to switch out your mattress?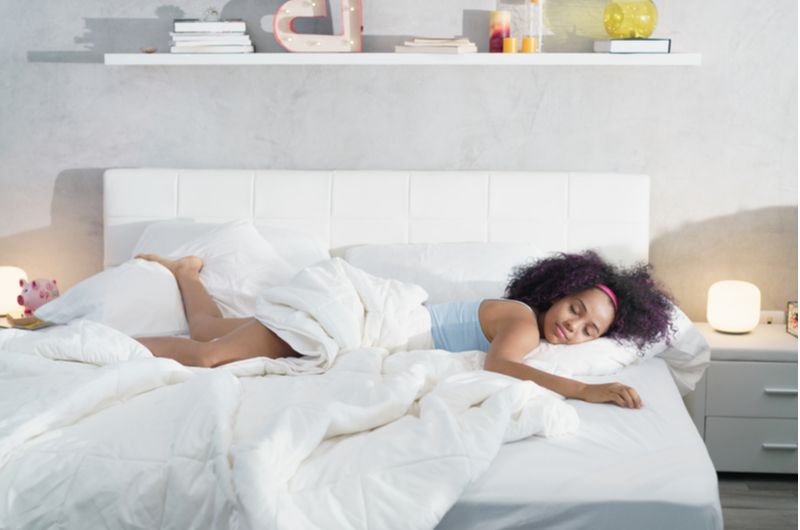 Multiple factors impact the effective lifespan of your mattress including its age and materials. Common signs also indicate when you need to replace your mattress with a new & improved product. Understanding what shortens your mattress' lifespan and knowing how to recognize the signs it is time for a replacement helps you stay well-rested, healthy and productive. The quality of your life is important. Read on to learn when to switch out your mattress, purchasing tips and a guide to the top mattress brands available today.
How a Bad Mattress Impacts Your Life
Life presents stressful challenges and one of the best cures for stress is a good night's sleep. This is especially true in modern times as the world still deals with the impact of the COVID-19 pandemic and major changes to the way daily life is lived. Understanding when to switch out your mattress with a brand new replacement is as important as knowing when to change the tires on your car. Without safe and proper support beneath it your vehicle is at increased risk of needing repairs and causing an accident. Flat or damaged tires also impede your vehicle's ability to function properly, the same as a damaged or worn out mattress does to you.
The U.S. Centers for Disease Control and Prevention (CDC) states insomnia and sleep apnea, both possible results of a bad mattress, lead to the emergence of heart disease and high blood pressure. Both of those conditions subsequently contribute to potential strokes and cardiac arrest. Sleep deprivation is also known to impede stamina, focus/concentrate and normal brain function. Replacing your mattress on a regular basis helps prevent the onset of these adverse conditions, while also providing numerous other health & lifestyle benefits.
How Often to Replace Your Mattress
Various factors impact the need to replace your mattress but perhaps the most influential factor is time. Replacing your mattress every six to eight years on average helps avoid adverse health and lifestyle factors, but other factors in addition to time also influence the need. For example, if you are waking up every day with stiffness in your joints or pain in your muscles, it might be time to get a new mattress.
In fact, many adverse effects on the quality and length of your sleep are commonly caused by a worn-out or failing mattress. This includes the mattress making more noise than usual, which results in waking you up every time you change positions. Replace your mattress if it is sagging in one or more areas, or higher on one side than the other. It is also time to switch out your mattress if you experience:
• New allergies, shortness of breath and/or increased itching.
• Getting better sleep in other beds (friend's houses, hotels, etc.).
• Musty/moldy smells in your bedroom.
Mattress Types
When shopping for a new mattress it is helpful to know about the various mattress types on the market today. Each type of mattress also has unique health benefits in addition to providing you with a better nightly quality of sleep. For example, innerspring mattresses are the most common type sold and are most beneficial for sleepers with back pain, who need firmer support or have more weight to their bodies. Latex mattresses, however, are best suited for sleepers who frequently change positions during the night. Memory foam mattresses relieve chronic fatigue and muscle soreness by adapting their shape/support to the shape of your body. Hybrid mattresses combine the benefits of innerspring and memory foam products, whereas air mattresses are particularly beneficial for sleepers with spine injuries due to their adjustable tension & support.
Tips for Choosing a New Mattress
Choosing the best new mattress for your sleeping style and needs is easier to do than ever before thanks to the large amount of quality products on the market today. Many companies allow trials because it is impossible to know how a mattress will work for you long-term by testing it once in a store. Additionally, many stores are now online-only, which effectively mandates the need to test their products before making a final commitment.
If you already know your sleeping habits and what type of mattress you need, taking advantage of trial periods is perhaps the only tip you need. Still, many new materials, mattress styles and upgrades to support systems have been introduced in recent years. Doing some old fashioned in-store comparison-shopping (as available) lets you try out different types of mattresses to see if your body and sleeping habits are best suited for a new style. Finally, mattress manufacturers run specials and sales at various points during the year. Most deals are offered on holidays such as Presidents Day, New Year's Eve/Day, Independence Day and Labor Day. Planning your mattress replacement purchase around one of those holidays helps you improve your quality of life, while saving money in the process.
Best Mattresses Available Today
The best mattresses available today provide excellent support/flexibility and an improved night's sleep at affordable prices. Certain brands rise above others to present the best mattresses on the market. The top brands & mattresses available today include:
• Leesa Sapira Hybrid Mattress.
• Charles P. Rogers Estate SE.
• Nectar.
• Puffy Lux.
• TEMPUR-PEDIC.
• DreamCloud.