Senior living options benefits your loved ones in numerous ways. This applies whether you are a senior looking for affordable senior residences or the family of someone in need of senior-specific accommodations.
The type of senior living facility needed depends on multiple important factors, all of which deserve careful and thorough consideration.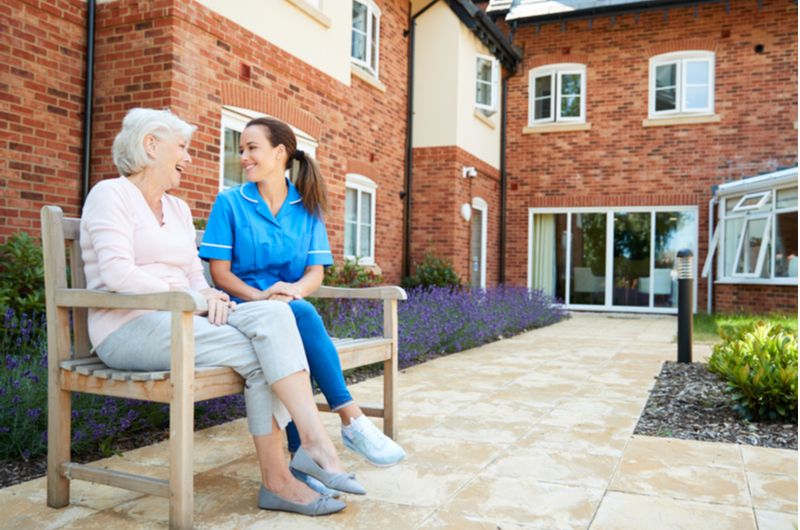 Acknowledging the need for relocation to a senior living facility sometimes involves stressful conversations with people whom you care about the most. Some senior living options offer almost complete independence, while others provide comprehensive levels of daily care and assistance. It is important to recognize the reasons why someone should consider placing their loved one(s) in a senior living facility. If you are a senior, it is equally important to recognize the reasons you want/need senior living accommodations. Read ahead for helpful information on senior living and why it could benefit your loved ones today.
Why Senior Living is Beneficial for Seniors
U.S. senior citizens vary in age and levels of independence. While some seniors are relatively young and maintain a full or at least high level of autonomy, others require daily assistance in varying ways. Senior living benefits individuals who have mobility issues, especially involving stairs or showering/bathing. Senior living also benefits seniors with memory issues by providing staff to help administer medicines or maintain punctual appointment schedules.
Certain senior living communities provide a hybrid of personalized care and social interaction. Seniors with some level of independence sincerely appreciate the ability to spend time with peers. Many assisted living or other senior living facilities provide social activities such as group games, entertainment, group meals and fitness. Accepting the need for ongoing daily assistance with normal life activities is challenging enough. Senior living benefits seniors by placing them in an environment where they have common interests and mindsets to their co-inhabitants.
Types of Senior Living Options
Senior living is a not a one-size-fits-all situation. Multiple types of senior living and senior housing choices exist to meet a wide variety of medical, emotional, physical and lifestyle needs. Understanding the different types of senior living helps you make the best relocation choice for you or your love one(s) today.
Nursing Homes
Many people who think of senior living commonly assume it refers to a nursing home. While nursing homes are one type of senior living option, they are neither the only type nor are they exclusively designed for senior citizens. Nursing homes are available for seniors and other residents who suffer from qualified disabilities and/or serious medical conditions. Residents of nursing homes often require full-time care and assistance. Seniors in nursing homes have frequently reached a stage of life where mental or physical impairments prevent them from safely administering self-care. Nursing homes employ part and full-time medical staff and physical/emotional therapists. Nursing homes also provide care similar to hospitals albeit with an organic touch to make residents feel as at-home as possible.
Assisted Living
Assisted living facilities are designed for residents who need some daily level of medical or personal care assistance. Seniors residing in assisted living facilities still have a certain level of independence to the point they are capable of leaving the premises for (supervised) appointments, shopping trips or family visits. Assisted living staff is on-site full-time even if not always needed in a full-time capacity. Group activities such as attending hired entertainment events (musicians, magicians, storytellers, etc.), games, movie nights and group dining are commonly provided. Assisted living facilities often also have on-site pharmacies and facilitate regular medical/physical fitness activities into residents' schedules.
Other Types of Senior Living
Other types of senior living facilities include hospice, senior apartments, 55+ communities and respite care. Hospice is designed for people with terminal illnesses and at the end-stages of life. 55+ communities and (most) senior apartments are conversely designed for seniors with the utmost independence. Therefore, if you are considering placing your loved one into senior living due to diminishing independence it is unlikely a 55+ community applies. Respite care facilities offer short-term residencies, which is beneficial for seniors who need to experience the senior living lifestyle prior to committing to a facility tong-term.
Tips for Conversations About Senior Living
Selecting a senior living facility requires placing the safety, health & happiness of a loved one above all other considerations. Conversations about relocating your senior loved one(s) to a senior living facility are often emotional and sometimes tense. Many seniors have spent decades if not their entire lives in their current homes and are reluctant to leave. Many seniors are also resistant to the idea of no longer having control over their own safety and daily needs. Finances have to be considered and planned out, which adds an additional element of stress to the scenario.
When you notice a senior loved one is beginning to struggle with daily self-care, initiate the conversation about relocating to senior living as soon as possible. This allows time to work through all details and allow your loved one to acclimate to the concept before any accidents happen. Early conversations also allow more planning time, which in turn reduces stress and prevents last-minute mistakes cause by rushing.
Communicate in-person and not over the phone. This shows simultaneous respect & sincerity, while gently emphasizing the urgency of the situation. In-person conversations also allow time to plan out all topics of discussing. Prioritize listening to your loved one(s) over talking to them. Lead the conversation with questions, compassion, and empathy. Allow seniors to freely express all their feelings and thoughts without interruptions. The conversation might require multiple visits/meetings so allow the first one to be open and filled with your loved one's thoughts significantly more than your own.
Because you know the conversation will unfold in stages it is fine to not rush all the topics. Eventually, however, you will need to plan visits to various facilities. Include seniors in every part of the decision process as much as possible and allow them to participate fully in the selection of the senior living facility where they will live.